Back to all posts
Posted on
This Week at BCHS December 4 - 8, 2023
THIS WEEK AT BCHS
Belonging, Excellence, Accountability, Respect, Safety
December 4 - 8, 2023
(For archived Newsletters please click here)
Please check out the BCHS Events Calendar https://bchs.crps.ca/.
                  Check out our Daily School Announcements here.
Winter Coat Drive 
Our Green Team/High Hopes student group is masterminding their annual Winter Coat Drive now that it is December. If you have a gently used, clean winter coat at home that can be donated; please drop it off at the school or send it with your child. Coats will be donated to another community with people in need. Gloves, mitts, and toques are also gratefully accepted. Coats can be for children, teenagers, or adults. Donations will also be accepted at the Banff Schools Holiday Concert at the Jenny Belzberg Theatre on Wednesday, December 13 between 5 and 7:30 pm.
Pizza Lunch for Students working with our SWIS (Settlement Worker in Schools)
Starting on Thursday, December 7, students who work with SWIS will be invited to take part in a Pizza Lunch program. This weekly program intends to enhance social connections and shared experiences for newcomer students. It will be a great opportunity for SWIS to connect further with students in a group setting. During the program, SWIS will host icebreakers and other fun games and facilitate important conversations. Invitations will be sent home with students and registration will be required through Settlement Services.
January 2024 Exam Schedule
Diploma exams, final exams, and Grade 10 mid-term exams will be taking place in January. Please refer to the exam timetable now published here and in the calendar. Exam week is from January 19 to January 30.
Semester 2 will start on January 31.
Beginning on January 22, Grade 9s will have the opportunity to take part in a Career Exploration week. 
Grad 2024 Fundraising Events
Friday, December 1 (TODAY!) is the last day to stock up on your favourite Purdy's treats AND support a great cause. Ordering is as easy as eating chocolate. Just click on this link, fill out your info (you'll need an email address), click "Join Campaign", and enter our campaign number: 57195 and you are ready to place your order. Orders will be available for you or your student to pick up at the school a week before the holiday break. If you have any questions please email Monica Bulas at monica.bulas@crps.ca. 
School

 

Fees
School fees are on Parent Portal ready for payment. Details for payment options are available on the fees page.
Homework Support
Homework support sessions run over lunchtime on Tuesdays, Wednesdays, and Thursdays. These are for students who are not completing assignments by deadlines set by teachers or who have missed a test due to an absence. Students will need to bring their lunch with them.
Extra Curricular News 
Basketball 
Please see the attached BCHS practice schedule for a list of practice times.  
Monday, December 4: JV Boys:  CCHS @  BCHS.  5:30 pm - 7:15 pm
Tuesday, December 5: SR Boys:  BCHS @ OLS.  7:15 pm - 8:45 pm
Wednesday, December 6: SR Girls:  BCHS @ CCHS.  3:30 pm - 5:15 pm
Volunteers 2023-2024
All volunteers need to complete a Vulnerable Sector Check with the RCMP every 12 months. This usually only takes a few days - contact our office for more details and a form.   
School Calendar
myPass
Just a reminder that Grade 10 - 12 students should set up their myPass so they can access their school transcripts and track their high school credits. Here is a step by step guide for setting up MyPass
The Week Ahead
Monday,  December 4, 2023 
Green Team/High Hopes at lunch
Tuesday, December 5, 2023
Lunchtime Band practice
Skills Exploration Day Grade 9s
Wednesday, December 6, 2023
Rainbow Alliance at lunch
Thursday, December 7, 2023
Student Leadership at lunch
SWIS Pizza Lunch
Friday, December 8, 2024
Upcoming Dates
December 12 - 15: Winter Travel for WILD class
December 12: Senior Band students perform at Banff Spring's Seniors Tea
December 13: Banff Schools Holiday Concert 5:00 & 7 pm at Jenny Belzberg Theatre
December 15: Half Day Friday
December 22: Pancake Breakfast
December 22: Schools close for winter break at 11:42 am
January 8: Schools re-open for 2024
January 10: ELA 30-1 / 30-2 diploma exam Part A
January 18: Last day of semester 1 classes
January 19: Exam week starts
January 22 - 26: Grade 9 Career Exploration week
January 22: Math 30-1 diploma exam
January 23: English 30-1 / 30-2 diploma exam Part B
January 26: Chemistry 30 diploma exam
January 29: Physics 30 diploma exam
January 31: Semester 2 starts
2023-2024 Caribou Kids Season Ski Pass Program
Banff school students will enjoy free skiing again this winter. Now in its 17th year, Banff Lodging Co and Banff Mount Norquay are happy to offer the Caribou Kids Season Pass program for students enrolled at Banff schools. Please click here for more information and the registration form. All payments and inquiries should be directed to Banff Mount Norquay.
Social Media
A great way to stay connected to our school is through our social media platforms.  Make sure that you follow our school social media sites at the following addresses:
Also, remember that our calendar and school information can all be accessed through our website https://bchs.crps.ca/.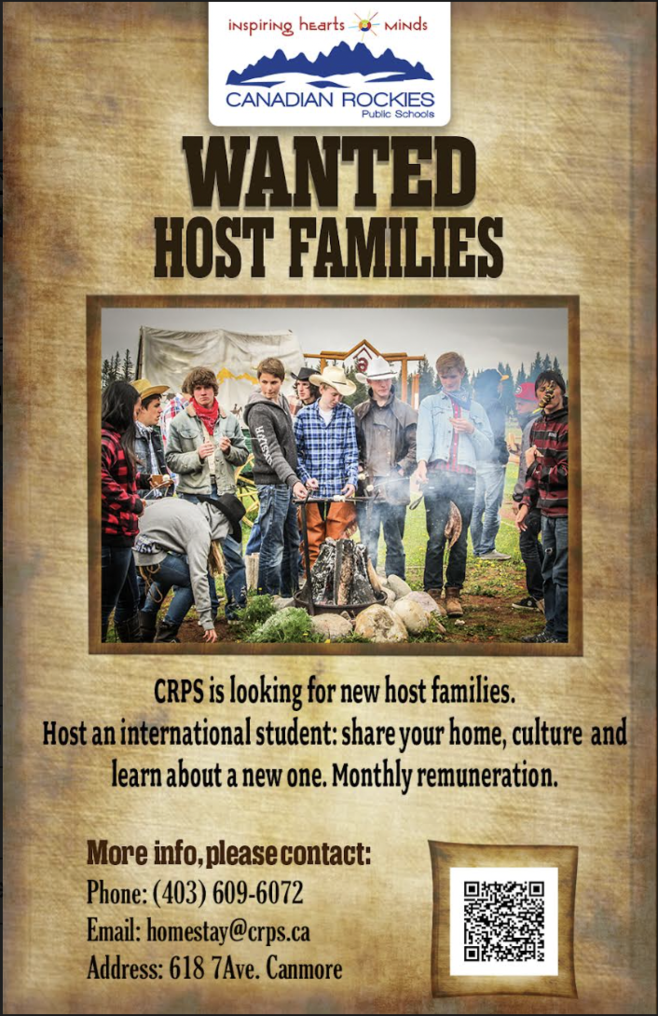 Follow this link to find out more!
Other Information
Help your teen connect to nature for better health
Missing important happenings at BCHS, but are awash in emails? Find information through our social media. Get connected, become involved.
News
Parent Resource - 6 Pillars of Well Being. https://www.seethesigns.ca/resources/
Bow Valley Settlement Services Information and newsletter Click Here.
Follow the link to view the 'The Brief'; highlights from the November 22 Public School Board Meeting.
BCHS Bear Tools
Please feel free to contact the Principal, Chris Rogers (chris.rogers@crps.ca) with feedback or suggestions or use our feedback link here.