Back to all posts
Posted on
This Week at BCHS January 30 - February 3, 2023
THIS WEEK AT BCHS
Belonging, Excellence, Accountability, Respect, Safety
January 30 - February 3, 2023
(For archived Newsletters please click here)
Please check out the BCHS Events Calendar https://bchs.crps.ca/.
                  Check out our Daily School Announcements here.
Reminder to Grade 11 and 12 students
Please return your textbooks to the Library. You will not receive new textbooks for Semester 2 until you have returned your textbooks from Semester 1.
High School Planning and Alignment for 2023-2024
Monday is the first day of the second semester so we are halfway through the school year already! Report cards will be available in PowerSchool (parent portal) on Friday, February 3 and parents will be able to celebrate the successes in learning with their children. While our students are looking forward to their new courses, different priorities, resetting goals and juggling school-life balance we also need to hear from them about their thoughts on the 2023-2024 school year to help us with our planning. Canadian Rockies Public Schools intends for all our high school students to have as much choice as possible in their learning and provide them with varied opportunities to graduate with courses that inspire and engage them. In order for students to be knowledgeable about all options for learning with CRPS, administration will visit Grade 10 and 11 classes this week and explain their choices for the 2023-2024 school year. Students will complete a survey to let us know what courses they might want to take next year, what options there are at BCHS and CCHS and whether or not they would consider travelling to CCHS if the option is based at CCHS in Canmore. We are not asking students for final commitments at this stage (that will come in the Spring - along with Parent information sessions prior to course selection); the survey results will help us with schedule planning and staffing.
Absence from School During the School Day
Grades 10 - 12 have the privilege and the responsibility of signing themselves out during the school day for an appointment although we still require a phone call or email from the guardian or parent as a follow up to excuse this absence. If the senior high student is feeling unwell we will endeavour to contact home. Grade 9 junior high students who leave school during the school day for an appointment or who are feeling unwell will need to have their absence excused by a parent or guardian prior to leaving the building. Please call the office ahead of time or we will contact home to check that this is an excused absence prior to the Grade 9 student leaving. 
Career Internship (Grade 10 - 12) Opportunity
This is a pilot program for Grade 10 - 12s starting in Semester 2. Students should see Ms. Miles if they are interested or email Mr. Hans Holthuis at hans.holthuis@crps.ca if you are an employer who would be interested in hosting a student for this opportunity. 
Intent: Allow students to personalize their high school experience and build on or develop their career passions and interests.
Employer time commitment: 25 hours total offered typically every two weeks on Friday afternoons between 1:00 - 4:30 pm (7 times in the Fall Semester or 7 times in the Winter Semester).
Student remuneration: Students can be paid or unpaid for their time at the worksite.
Extra Curricular News 
Practices are included in the week ahead and can be found in the following spreadsheet.  Please contact our Athletic Director ian.higginbottom@crps.ca if you have any questions about our sports program.
The Week Ahead
Monday, January 30, 2023 
Semester 2 and Quarter 3 start
Tuesday, January 31, 2023
Student leadership council meeting at lunch
Basketball: Girls JV "Black Team" game @ BCHS - 5:30 pm 
Wednesday, February 1, 2023
WimWe grade 10.1 Cross country Ski to Great Divide Trail - Weather dependent so watch for email to confirm or postpone
International students meeting at lunch
Green Team / High Hopes meeting at lunch
Boys JV "Black Team" game @ OLS - 6 pm
Thursday, February 2, 2023
Friday, February 3,  2023
Semester 1 report cards issued
Boys JV "Gold Team" Basketball Tournament.  First Game:  Bears vs St. Martin de Porres @ 12:30 pm.  Games run Friday through to Saturday night.
Upcoming:
Monday, February 6: WimWe Grade 10.2 Cross Country Ski to Great Divide Trail
Wednesday, February 8: Dual Credit Olds College courses applications close
Friday, February 10: Half Day Friday
Friday, February 17: Pink Shirt Day
Monday, February 20 - Friday, February 24: no school for students
Monday, February 27: School back in session
Friday, March 3: Half Day Friday
Monday, March 13: WimWe Grade 10.1 Snowshoe at Sherbrooke Lake
Monday, March 13: School Council meeting (Note: no meeting in February)
Tuesday, March 14: Grad Photos
Wednesday, March 15 - Friday, March 17: Parent Student Teacher Conferences
Monday, March 13: WimWe Grade 10.2 Snowshoe at Sherbrooke Lake
Friday, March 17: no school for students
Wednesday, March 22: Second Awards Assembly
Friday, March 31: last day of school before Spring Break
Grade 10 WimWe Cross Country Ski days
Gear list: 
https://docs.google.com/document/d/1laJLBTjn6dcq3VDl9kEj-RWWn81k32If2_MuM0_BMeU/edit
We will provide all cross country skiing gear.  We also have extra clothing layers, winter jackets, gloves, toques (no snow pants).
Busing: We will leave the school around 8:30 am and return by 3:15 pm. 
Location: Great Divide Trail in Lake Louise.  (Alternate location pending conditions and temperature is Pocaterra in Kananaskis or the Canmore Nordic Centre.)

Caribou Kids Ski Pass
Banff school students will enjoy a (almost) free season's ski pass again this winter! In its 16th year, Banff Lodging Co and Banff Mount Norquay remain committed to offering the Caribou Kids Season Ski Pass program for students enrolled at Banff schools. Please click here for more information and the Norquay form.
School Fees
School fees are now overdue. You can find your child's fees on PowerSchool Parent Portal. Debit or credit card payments can be made online through your Parent Portal. Please contact Renee Husdal at renee.husdal@crps.ca to make payment arrangements or if you have any questions.
Flu Season and COVID reminders
Please remain at home if you are displaying flu or COVID-19 symptoms and follow the current recommendations for staying away from work or school if displaying symptoms. We request that parents do not send their child to school if they feel ill. Please let us know they are absent due to an illness so we can keep track of any potential outbreaks which are considered 10% or more of the student population. Read this letter dated November 2023 from the Interim Chief and Senior Medical Officers of Health in relation to the rise in influenza cases seen in school recently.  If your child tests positive for COVID-19 please read the advice for isolation: https://www.albertahealthservices.ca/topics/Page17239.aspx 
Dual Credit Courses with Olds College
These are the courses available in Semester 2. See Ms. Miles or Ms. Bekar for further details.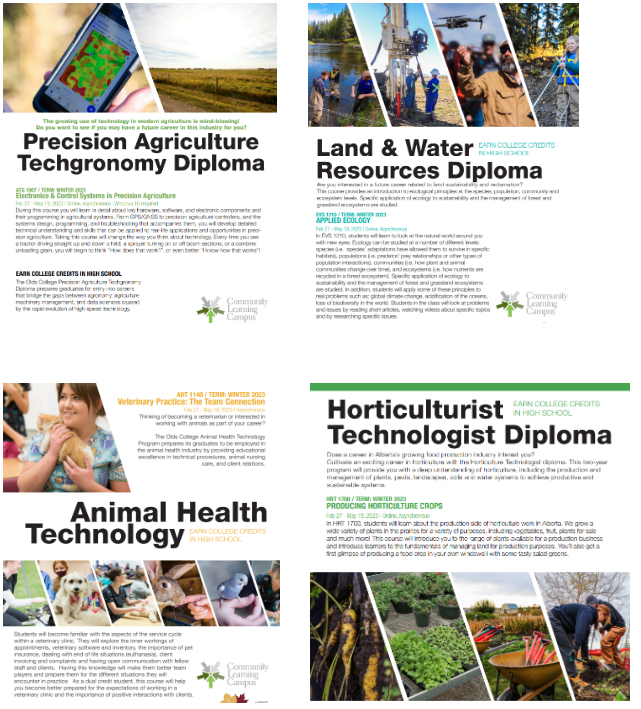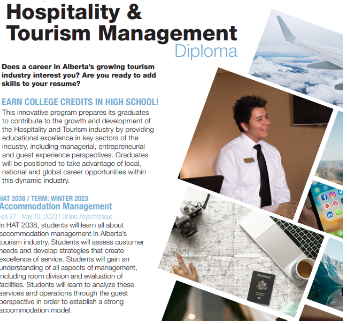 Social Media
A great way to stay connected to our school is through our social media platforms.  Make sure that you follow our school social media sites at the following addresses:
Also, remember that our calendar and school information can all be accessed through our website https://bchs.crps.ca/.  
 
Do you have a spare bedroom? 
Become a host family
for our International Student Program!
We are looking for 5 or 10 month commitments
Remuneration Provided
Remuneration Provided
Follow this link to find out more!

Bear Celebrations
If you have a BCHS Celebration that you would like to share with our community, please email natasha.miles@crps.ca.
Other Information
Missing important happenings at BCHS, but are awash in emails? Find information through our social media. Get connected, become involved.
  Check out our Daily School Announcements here
News
Bow Valley Settlement Services Information and newsletter Click Here.
Follow the link to view the Board Highlights from the November 23, 2022 Public School Board Meeting.
BCHS Bear Tools
Please feel free to contact the Principal, Chris Rogers (chris.rogers@crps.ca) with feedback or suggestions or use our feedback link here.