Back to all posts
Posted on
This Week at BCHS June 27 - June 30
THIS WEEK AT BCHS
Belonging, Excellence, Accountability, Respect, Safety
June 27 - June 30, 2022
(For archived Newsletters please click here)
Please check out the BCHS Events Calendar https://bchs.crps.ca/.
Exams
Our exam schedule is here.  Students writing exams should be in school at 8:30 am. 
BCHS School Council - Thank you
Banff Community High School continues to look to the future to provide our students with a progressive and complete education.  Our school seeks to pursue our district vision of "Creating a better world through transformational education that celebrates nature, diversity, and well-being."  While we continue to plan to meet the future needs of our students, we must also navigate the realities of the world around us.  Throughout the course of this school year, we had a return to normal activities and a number of unexpected surprises. 
Throughout the year, our school council has supported BCHS by providing input on decision-making, communicating community needs, and supporting long-term planning.  Our council also worked tirelessly to secure resources for our school through a Casino fundraising campaign.  Funds earned will go towards new audio equipment in our gymnasium.  We would especially like to thank Kathy Dales, Jenna Villemaire, and Anne-Marie Puccini, for taking on executive positions on our council.
Our Annual General Meeting and the first meeting for the 2022/23 school year will be on Monday, September 19, 2022 at 4:15 pm.  We invite all BCHS parents to attend and continue this important conversation so we can provide our students with a meaningful and enriched education.

If you are applying for post-secondary scholarships, use a personal email account, not your CRPS email so you can still access them. You will need to move your data before you leave BCHS.
Google has tools to help you including:
Graduation
Our graduation ceremony will be taking place on Thursday, June 30.  A letter has been sent out to all graduating families outlining the details of the ceremony. Payment for tickets is due by June 24.
Library Books / Locker Clean out
Students need to return textbooks and school resources as soon as they are done using them.  If students require texts to study please return them on the day that the exam is being written.
Coaches Needed for 2022/2023 Seasons
Despite being a small school, BCHS offered a total of 18 teams this past year, including six volleyball and six basketball teams.  In total, our school of about 170 students had over 1/2 of our students playing and involved in sport in some form!  Providing opportunities for sports for all students requires community support and we are so grateful to all the parents and members of our community who have dedicated their time to high school sports.  
We are actively seeking coaches for the following sports for next year: JR Volleyball and Basketball (boys and girls), SR/JV Girls Volleyball, and SR Boys Basketball.
Please contact our athletic director, ian.higginbottom@crps.ca, if you are interested in becoming a valuable part of our Bears' athletics community.
The Week Ahead
Monday, June 27, 2022 (Exams)
9:00 Physics 30 Diploma Exam
8:30 Grade 10 Science
Tuesday, June 28, 2022 (Exams)
9:00 Science 30 Diploma Exam
Wednesday, June 29, 2022 (Exams)
Missed school exams (if necessary)
Thursday, June 30, 2022
11:00 Graduation Ceremony at the Banff Springs Hotel
Upcoming Dates
July 1 - Summer Break - no school
Social Media
A great way to stay connected to our school is through our social media platforms.  Make sure that you follow our school social media sites at the following addresses:
Instagram: banffbchsbears

 

Facebook:  Banff Community High School

 

 Twitter:  @BCHS Bears
Also, remember that our calendar and school information can all be accessed through our website https://bchs.crps.ca/.  
Town Of Banff - Youth Drop-In, Basketball, Sticks, and Pucks
The Town of Banff is providing youth drop-in opportunities on Sundays at Banff Elementary School from 1:30 to 2:45 pm.  Come alone or bring along some friends and join in a casual game of pickup basketball. Basketballs and pinnies provided. Open to all genders and abilities.  More information is posted here: https://app.bookking.ca/banffpub/calendars/courses/index.asp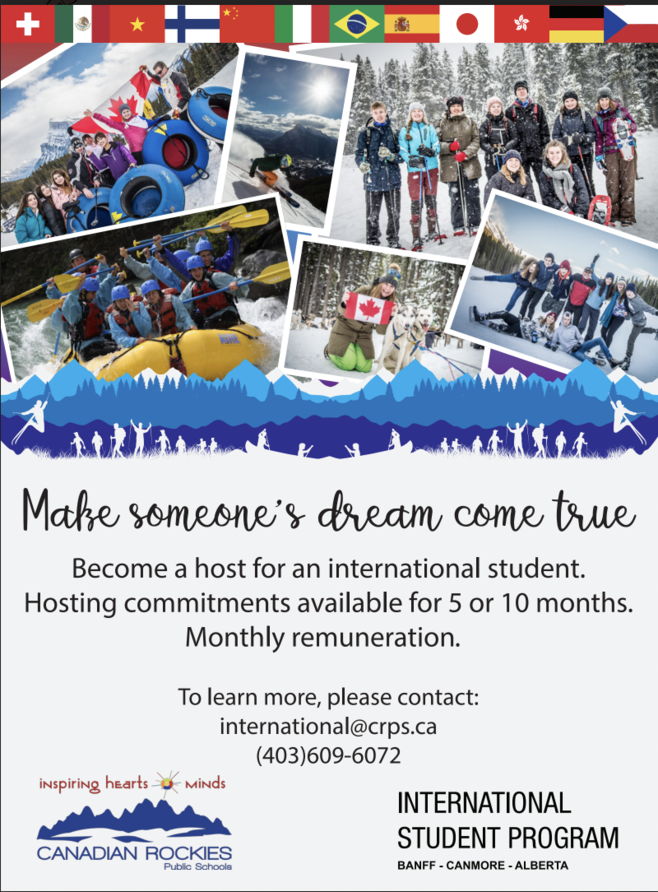 Become a Host Family for CRPS International Students in 2022-23!
CRPS is looking for Canmore & Banff families to host our next incredible cohort of 50 international students arriving in August 2022! Make meaningful connections, share your different cultures, learn a new language, build life-long memories & friendships! Commitments of  5 months and 10 months are available, with monthly remuneration provided. For more information and to apply, contact international@crps.ca or 403-609-6072.
Bear Celebrations
If you have a BCHS Celebration that you would like to share with our community, please email mike.shoemaker@crps.ca.
School Fees
Banff Community High School fees, along with sport, band trip and Grad Hoodie fees, are available on PowerSchool Parent Portal and are now due. Debit or credit card payments can be made online through your Parent Portal  https://powerschool.crps.ca/public/.  If you are unable to make full payment at this time please contact Joanne Geyer at joanne.geyer@crps.ca to make payment arrangements. School fees that remain outstanding on June 30 may be sent to collections.
Other Information
Missing important happenings at BCHS, but are awash in emails? Find information through one of the media listed below. Get connected, become involved.
News
Bow Valley Settlement Services Information and newsletter Click Here.
Follow the link to view the highlights from the May Public School Board Meeting.
BCHS Bear Tools
Parents please ensure you can log on to Parent Portal. Look for the PowerSchool Quick Link on our school webpage or click here. This is where you will access daily updates on your student's marks and attendance, school fees and more. Final term report cards are also shared with you through Parent Portal and are not mailed out from the school.
Alberta Education has now made student access to their official transcript of marks available to all Grade 10 - 12 students available through a myPass account (myPass.alberta.ca). Grade 10 marks will start to appear after the first semester.
Please click the link for the 2021/2022 Student / Parent Handbook. Find important BCHS dates such as parent/teacher interviews, course change information, exams, and much more. 
Some universities are now offering information sessions … Please check with Ms. Piekenbrock for more information.
Please click this link for the 2021 - 2022 School Calendar
Please feel free to contact the Principal, Chris Rogers (chris.rogers@crps.ca) with feedback or suggestions or use our feedback link here.